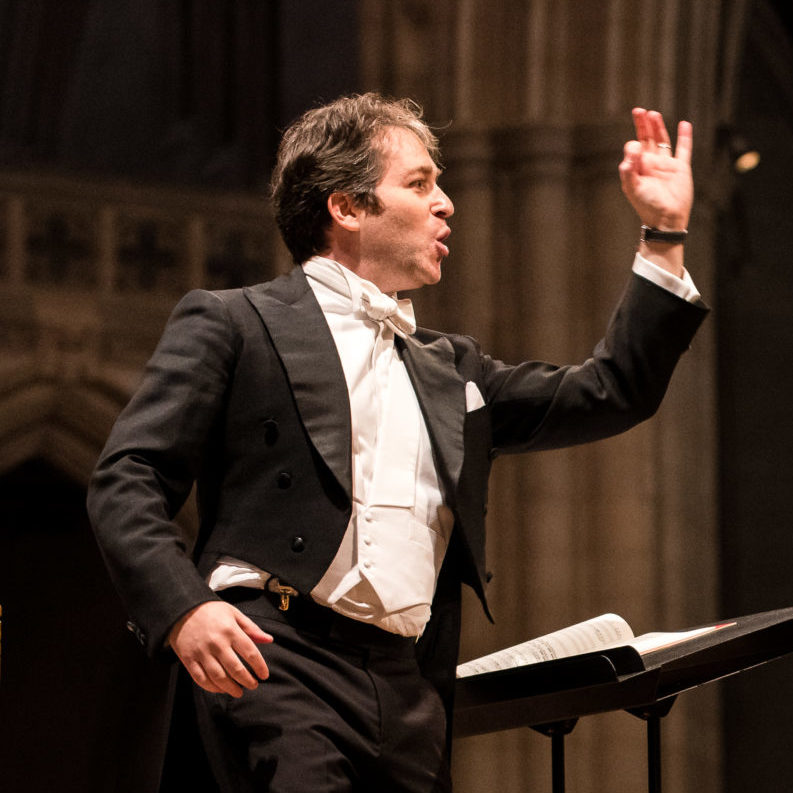 Steven Fox, Music Director
Steven Fox is Music Director of the Cathedral Choral Society at the National Cathedral in Washington, DC, and Artistic Director of The Clarion Choir and The Clarion Orchestra in New York.  He founded Musica Antiqua St. Petersburg as Russia's first period-instrument orchestra at the age of 21, and from 2008 to 2013 he was an Associate Conductor at New York City Opera. He has also served as Assistant Conductor for the Metropolitan Opera Lindemann Young Artists Program and for Juilliard Opera. He has appeared as a guest conductor with many renowned ensembles such as the Rochester Philharmonic Orchestra, Philharmonia Baroque Orchestra, Handel and Haydn Society, Juilliard415, Charleston Symphony Orchestra, Quebec Symphony Orchestra, Opéra de Québec, Chicago Music of the Baroque, Tucson Symphony Orchestra, Cappella Romana, Theatre of Early Music, and the Schola Cantorum of University of Toronto. He has conducted in some of the most prestigious halls internationally, such as Carnegie Hall, Lincoln Center, Grand Philharmonic Hall and Hermitage Theater in St. Petersburg, Russia, Rachmaninoff Hall in Moscow, Duke's Hall in London, and the Vatican.
He has been called 'an esteemed director' by The New Yorker and 'visionary' by BBC Music Magazine. The New York Times has praised his 'deft guidance' and wrote: 'an inspired interpretation. Mr. Fox revealed the drama of the score with vivid dynamic shadings. Intonation and pacing were exemplary throughout the performance.'  Steven was named an Associate of the Royal Academy of Music, London, in 2010 'for significant contributions to his field in music,' and has received GRAMMY® nominations for Best Choral Performance for the three recordings he has released: Steinberg's Passion Week (2016), Kastalsky's Memory Eternal (2018), and Kastalsky's Requiem (2020). Steven has collaborated with renowned artists such as Harry Bicket and The English Concert at Carnegie Hall, Eric Jacobsen and The Knights, Susan Graham, Leonard Slatkin and the Orchestra of St. Luke's, and Madonna at the 2018 Met Gala.  Steven graduated a Senior Fellow with High Honors in Music and Russian from Dartmouth College, and with Distinction from the Royal Academy of Music. He has given master classes and clinics at The Royal Academy of Music, The Juilliard School, Dartmouth College, and Yale University, where he served for two years as preparatory conductor of the Yale Schola Cantorum.