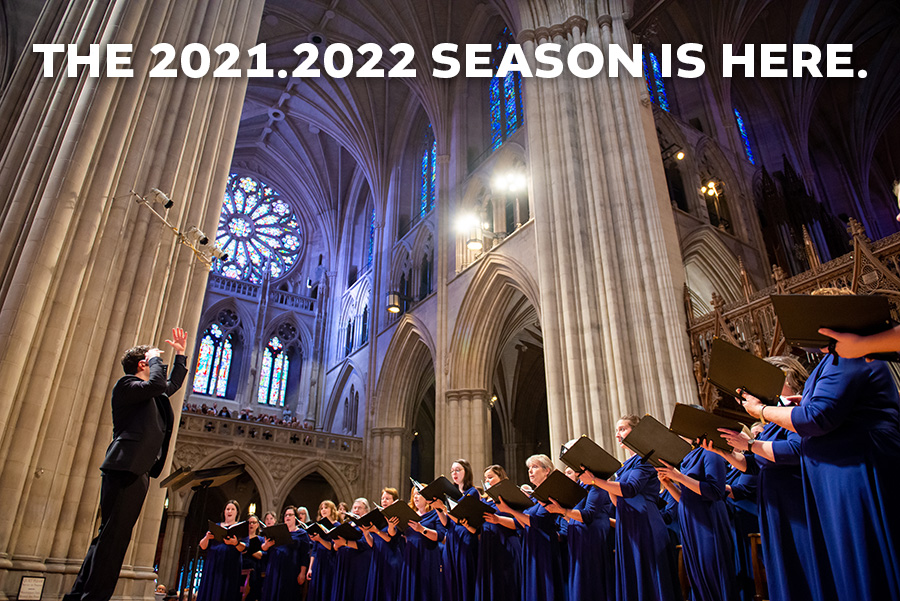 The Cathedral Choral Society is ecstatic to present its 2021.2022 season to the public. It is our vision that, through music, we might create a more equitable worldwide community. From performances rooted in tradition to world premieres of innovative work, we are excited to come together once again and reach towards this goal.
Tickets start at just $20 for this extraordinary season, with 10% off our subscriptions, marking our return to in-person singing and the Cathedral Choral Society's historic eightieth season.
Stay tuned for details about streaming our live performances coming soon.
Browse the events above for complete concert information and tickets, or call the box office at Washington National Cathedral at 202.537.2228. You can also email the box office at Washington National Cathedral at tickets@cathedral.org.
Please read our COVID-19 Safety Guidelines carefully before you purchase your tickets.
Questions? Please contact us via email at: choralsociety@cathedral.org.
Washington National Cathedral
3101 Wisconsin Ave NW
Washington, DC 20016